Welcome
---
Welcome to EJ Services, specializing in Espresso machine, coffee grinder and brewing system repair as well as old and out of production machines and parts.

For more information or a service quote, please contact by e-mail or phone below.


Contact & About
---
Shop located in Half Moon Bay, CA.
Drop-pickup location in Half Moon Bay with appointment only.
40+ years experience with Espresso machine repair and coffee brewer repairs.
PayPal, Venmo, Square payment accepted.
Phone or text: 650-455-0693
E-mail: ssulljm@gmail.com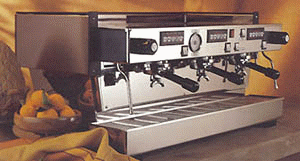 Available Services
---
Troubleshooting/diagnosis



Repairs on most commercial and home Espresso machines: La Marzocco, Cimbali, Faema, ECM Giotto, Salvatore, Brasilia, Gaggia, La San Marco, Wega, Rio, Spaziale, La Pavoni, Bezzera, Rancilio, Livia, Pasquini, UNIC, Astoria, Vibiemme, Fiorenzato, Elektra, Conti, Futurmat, Ruby, Vibiemme, VBM, Astra, Rocket.



No service repairs on Saeco, Jura, breville, nepresso, home or baby gaggia or any Espresso machines branded as "super automatic".
Specializing in old and out of production espresso machines and parts.



Repairs to most brands of coffee grinders: Mahlkonig, Mazzer, Fiorenzato, Obel, Amfim, Rossi, Quick Mill, Ditting, Ciat, Petroncini, La Pavoni.



Repairs on most coffee brewing systems: Bunn, Fetco, Curtis, American Metal Ware, Columbia, Grindmaster.

Repair turnaround time averages 2-7 days.

Links
---
Coastsider: News and reviews for Half Moon Bay, El Granada, Moss Beach, and Montara.